We Make All
Types of Wipes 
Any size, any shape. Any color, any packaging—we can make it for your brand.
1. State-of-The-Art Machine & Facilities
2. Urivalled Experience and Skills in Wipes Manufacturing
3. The Only Specialist in Eco-Friendly Materials in Malaysia
4. Expertise in Both Dry and Wet Wipes
5. Quality Marketing & Design Support
RPD Sdn Bhd offers you simplicity and convenience in creating your own wipes products from start to finish. Our end-to-end service begins with our state-of-the-art machines and facilities. From here, we walk with you every step of the way – beginning with a professional consultation session, followed by a proprietary selection process to ensure that your journey with us is as uncomplicated and stress-free as possible.
Whether you seek to create a conventional product or a specialty wipe, you will be spoilt for choice with our selection of wipes material, carefully curated formulations and wide variety of packaging options. Most importantly, when you choose us as your manufacturing partner, you get to tap into our wealth of knowledge and experience that comes with being in the wipes industry since 2011.
Benefits of
Our End-to-End Service
Flexibility
Choose from a wide variety of products, sizes and materials to help your product stand out from the crowd
Lower Cost
Our state-of-the-art machines run at a higher capacity. This means better productivity and lower production costs for us. We transfer this savings to you so you can enjoy higher profit margins.
Certified Formulations
We invested on getting our formulations certified, so you don't have to. With access to our lab tested and certified formulations, you can safely make marketing claims for your product.
Stringent Checks and Quality Control
Stringent Checks and Quality Control On top of routine checks, we run metal detection tests to ensure each pack is contaminant free. Weight checks ensure all absolute consistency of your product. This ensures lower quality issues and minimal wastage (rejection).
Better Aesthetics
High quality packaging materials and machines capability result in good looking end-products that will give your product a premium look on shelves
Complete Marketing Services
Consultation from Market Experts
Gain valuable market insight, data and advice on how to increase the marketability and success of your product.
From Product Development to Shelves
Our in-house team is highly qualified and experienced in the wipes industry to support all your marketing and designing needs from start to finish.
Our Commitment
to The Environment
At RPD, we want to play a part in changing the way consumers consume. It all starts with providing more environmentally friendly choices as a manufacturer, without drastically affecting prices. So, you, and others like you can offer these sustainable products to the market.
Widest Variety of Eco-Friendly Materials
Non-Toxic Formulations
INDA Compliant Flushable Wipes
Compostable and Biodegradable Materials
Plastic-Free Options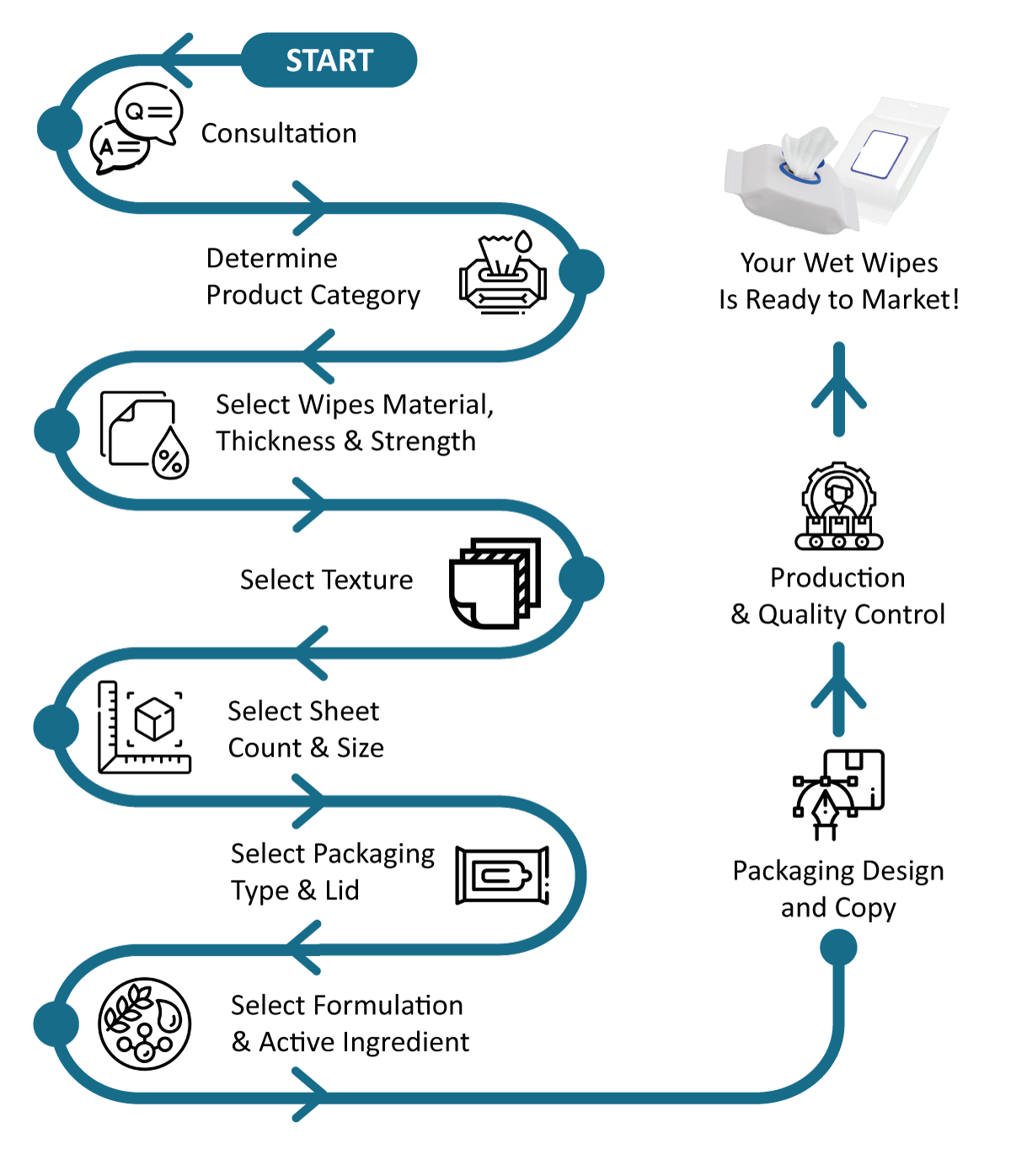 At RPD, we want the process of creating your own wet wipes product to be as simple and convenient as possible. Our team of in-house specialists have all the relevant experience needed to produce any additional marketing materials you will need to help your products enter the market with a blast.
Branding & Positioning
Packaging Design
Mock-ups
Copywriting
Photo shooting
Video shooting